The Scanflex Opaque Collection™!
Vår högpresterande och ultralätta kollektion av strålskyddsplagg i 0.25, 0.35 eller 0.50 mmPb.
Erbjuds som Opaque Fusion®, utan bly, eller Opaque Action®, med blyinblandning.
Plaggen är avsevärt lättare och smidigare än samtliga andra strålskyddsplagg på marknaden. Därtill 40% bättre skydd jämfört med andra kompositmaterial och 20% bättre än blymaterial.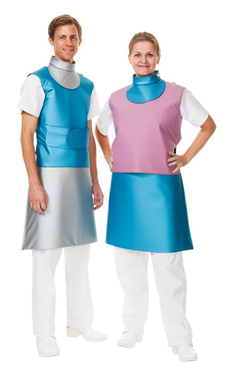 Danish University Hospital selects Orfit's technology as new immobilization system for head and neck cancer patients
Independent comparative study evidences superiority of Orfit's High Precision system for radiation therapy
Antwerp (Belgium), 2 November, 2012. As a result of a comparative study of commercially available
immobilization systems for radiation oncology, the Odense University Hospital in Denmark selected the
system developed by Orfit Industries as the best and decided to place an important order with Scanflex Medical AB for Orfit's High Precision systems for Brain and Head & Neck cancer treatments.
The use of newly available technology that entails a better control of a patient's position during radiotherapy, made a research team of Odense University Hospital decide to evaluate the precision of three different immobilization systems: Orfit's with its Efficast High Precision mask, and two systems from other manufacturers.
The purpose of the study was to measure the random and systematic setup errors and to compare the results among three equal groups of head and neck cancer patients. The outcome of the study clearly demonstrates the superiority of the Orfit immobilization system as it has "lower re-scan frequency due to less rotational setup error, reducing the need for time consuming patient repositioning considerably."
UTSTÄLLNINGAR OCH MÖTEN
Vi ställer ut på:
RÖNTGENVECKAN
13-16 september.
Gothia Towers, Göteborg.
Vi deltar på: